It was an historic opening of a week for Indian defence and technology, when it successfully tested its intercontinental surface-to-surface ballistic missile .
Agni-5, India's longest range, three staged, indigenously developed, nuclear-capable ballistic missile developed by Defence Research and Development Organisation (DRDO) of India was successfully tested 4th time at Kalam island of Odisha coast at 11:05 IST on 26December.
The missile is said to have a operational range of  5000 km (3100 mi). While Chinese report claims that India is concealing facts and the missile can hit target at the range of 8000 km (5000 mi).
Agni (Hindu God of fire) is a series of medium to intercontinental range nuclear-capable ballistic missiles developed by India, named after one of the five elements of Nature.
The first missile of the series, Agni-I was developed under the Integrated Guided Missile Development Program and tested in 1989 with a range of 700-1200 km, while Agni-2 have an operational range of 2000-2500 Km, Agni-3 and 4 are capable of destroying a target at the range of 2500 Km to more than 3500 Km.
Facts to know about Agni-5
Agni-5 was firstly tested on 19, April 2012 from wheeler's island (now Kalam island) off the odisha coast,secondly it was tested on 15 December 2013 ,third test on 31 January 2015 and finally on 26 December 2016.
Developed with a cost of Rs 2500 crore.
It covered testing distance of 5000 km in just 20 min.
Missile is 17 meter long and carry a warhead of 1000 kg and with weight about 50 tonnes it can target almost entire China and Pakistan and can even reach targets in Europe.
Being a ballistic missile it cannot be detected by any radar.
Agni 5's test launch is the first such missile test since India joined 34-nation Missile Technology Control Regime (MTCR) in July, 2016 (MTCR membership enabled India to buy high-end missile technology and also enhance its joint ventures with Russia).
Missile program director Avinash Chander commented that the launch signified "giant strides taken by India in its integrated missile development programme which was once overseen by late President APJ Abdul Kalam."
A spokesman for China's Foreign Ministry, Liu Weimin, said, "China and India are large developing nations. We are not competitors but partners. We believe that both sides should cherish the hard-won good state of affairs at present, and work hard to uphold friendly strategic co-operation to promote joint development and make positive contributions towards maintaining peace and stability in the region."
Mark C. Toner, a US State Department spokesman said, "We urge all nuclear-capable states to exercise restraint regarding nuclear capabilities. That said, India has a solid nonproliferation record.
The BBC reported that the launch marked the moment India joined an "elite nuclear club" that also included China, Russia, France, the US, the UK and possibly Israel. While,NATO Secretary General Anders Fogh Rasmussen stated that they did not think India was a missile threat, nor a threat to NATO and its allies, despite India's advancement in missile technology.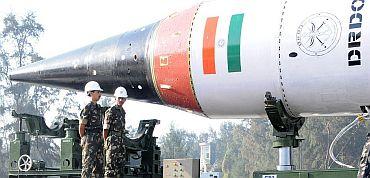 Agni-5 will be ready to be deployed after some more tests but this would not be the last assignment of Agni series, as DRDO is also working on Agni 6, which will have far more lethal striking capabilities than its predecessor.