Chinese President Xi Jinping today urged Donald Trump to peacefully resolve raging tensions over North Korea's nuclear programme after the US President warned that Washington would "solve the problem" on its own if Beijing did not rein in its close ally.
The Trump-Xi call came as an influential state-run Chinese newspaper warned that the Korean peninsula was the closest it has been to a "military clash" since North Korea's first nuclear test in 2006.
The phone call comes just days before North Korea prepares to celebrate the birth anniversary of late leader Kim Il-sung on April 15, which has in the past included missile tests and as a US carrier battle group heads towards the peninsula.
The call underscored a sense of urgency given concerns that North Korea could soon conduct a sixth nuclear test or more missile launches in defiance of U.N. sanctions, and over Trump's threat of unilateral action to solve the problem.
The unexpected phone call between the two came after Trump turned to Twitter to vent his frustrations over North Korea.
"I explained to the President of China that a trade deal with the US will be far better for them if they solve the North Korean problem," he tweeted.
"North Korea is looking for trouble. If China decides to help, that would be great. If not, we will solve the problem without them! USA," he wrote in a second tweet.
According to a statement from China's Ministry of Foreign Affairs, Xi reiterated that China wants a denuclearized Korean peninsula and called for peace and stability.
"China advocates to resolve the issue through peaceful means, and is willing to maintain communication and coordination with the US on the Korean Peninsula issue," the statement quoted Xi as saying.
Tensions escalated further Wednesday as reports said the Japanese navy would join the US Navy strike group led by the aircraft carrier Carl Vinson in its mission off the Korean coast. Those joint exercises would take place as the US armada passed through waters close to Japan.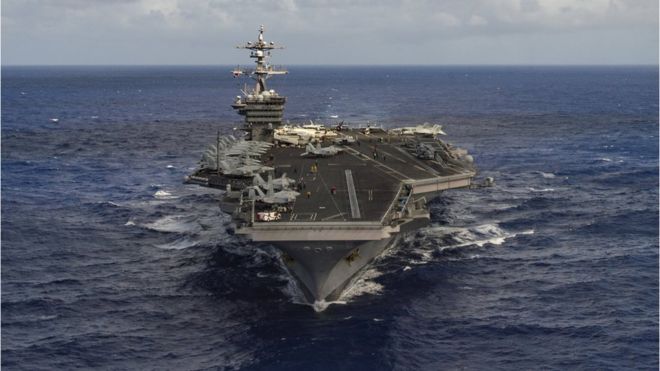 The aircraft carrier USS Carl Vinson
The Carl Vinson and several other warships are heading toward the Korean Peninsula in a show of force intended to deter the North from testing a sixth nuclear weapon or launching missiles.
Pyongyang warned on Tuesday of a nuclear attack on the United States at any sign of American aggression. It remains technically at war with the United States and South Korea after the 1950-1953 Korean conflict ended in a truce, not a peace treaty, and regularly threatens to destroy both countries.
Ruan Zongze, vice-president and senior research fellow at the China Institute of International Studies termed the situation in the Korean Peninsula as "severe".
According to Zongze, China had continued to maintain its policy of establishing a peaceful mechanism in North East Asia. "While President Xi has reiterated this stand, China has strong determination to maintain peace and stability in the region. The bottom line for China is clear — no trouble or war at China's doorstep. As a neighbour, China is the first to be hurt and impacted," Zongze said.
Following the Trump-Xi meeting, US Secretary of State Rex Tillerson had said that China understood how dangerous North Korea's nuclear programme had become and had agreed action must be taken to stop it.
China has not signaled any clear change in policy towards Pyongyang and Xi's language followed China's usual script on North Korea.