At least 10 people have been killed in an explosion on Monday afternoon on the Saint Petersburg subway network while Russian President Putin was visiting the city, as a CCTV image of the alleged attacker emerged.
An unidentified explosive device went off at 2:20pm on a train leaving the Technology Institute station and heading to the Sennaya Ploshchad station, Russia's National Anti-Terrorist Committee said.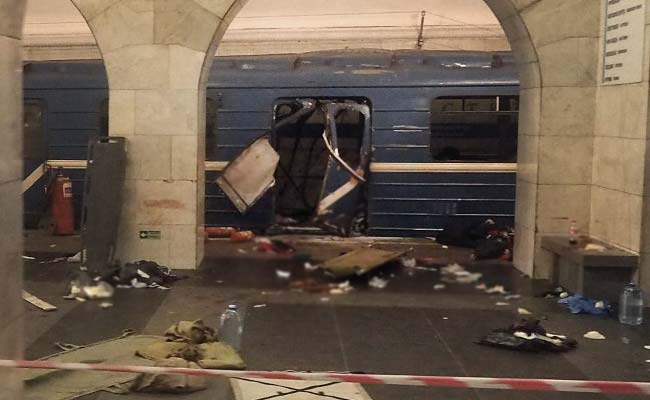 picture courtesy:NDTV.com
Initial reports suggested there had been two explosions, one at Sennaya Ploshchad and Tekhnologichesky Institut stations.
A spokesman for St Petersburg's governor said at least 10 people had been killed and 50 injured. But minutes later, Russian National Anti-Terrorist Committee said the death toll was nine, with 20 hurt.
The entire St Petersburg underground network has now been shut down, and Moscow metro officials said they were introducing extra security measures as a result.
St Petersburg's metro system is the 19th busiest in the world, with more than two million passengers every day. It has not suffered attacks before.
Andrei Przhezdomsky, the head of the committee, said the explosion at 14:40 local time (12:40 BST) was caused by "an unidentified explosive device" but that the exact cause had yet to be determined.
A huge whole was blasted in the side of one carriage with mangled metal wreckage strewn around the platform. Passengers were seen hammering at the windows of one closed carriage.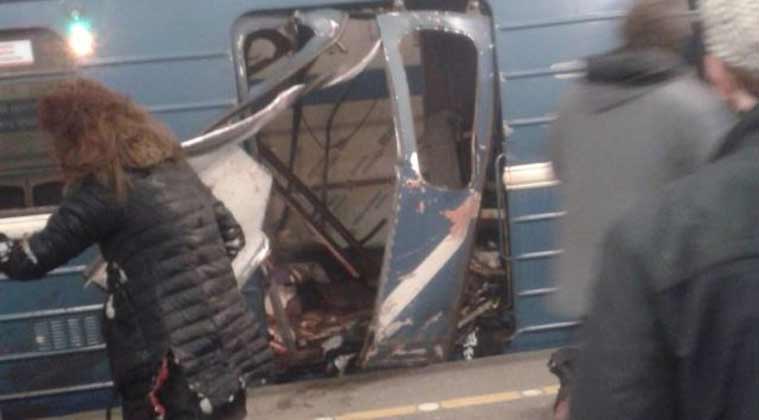 Following the reports, the Moscow metro also announced that it is "taking additional security measures" as required by law in such situations.
An unexploded device was later found at a second Saint Petersburg metro station after a blast in the underground that killed around 10 and injured dozens, local news agencies cited Russia's anti-terrorism committee as saying.
The national anti-terrorism committee (NAK) said in a statement carried by Russian agencies that such a device was "found and neutralised in a timely fashion" at the Vosstaniya Square station.
"I appeal to you citizens of St. Petersburg and guests of our city to be alert, attentive and cautious and to behave in a responsible matter in light of events," St Petersburg Governor Georgy Poltavchenko said in an address.
Russian President Vladimir Putin said law enforcement agencies were trying determine the circumstances of the incident.Putin said the government was considering all possible causes for the blasts in St Petersburg's metro system, including terrorism.
"I have already spoken to the head of our special services, they are working to ascertain the cause (of the blasts)," Putin, at a meeting with Belarus President Alexander Lukashenko, said.
"The causes are not clear, it's too early. We will look at all possible causes, terrorism as well as common crime," he added. Putin, who is holding a meeting near Saint Petersburg in his official Strelna presidential palace, offered "condolences" to those hurt in the blast.
Following the reports, the Moscow metro also announced that it is "taking additional security measures" as required by law in such situations.