A 30-year-old Indian woman,Shruthi Basappa, travelling from Bengaluru to Iceland this week was told to strip by Frankfurt airport security officers this week. They backed out, but only after her husband, an Icelandic, walked into the room at her insistence.
Shruthi Basappa, who lives in Reykjavik, Iceland and is married to an Icelandic citizen, detailed her ordeal in a series of posts on Facebook.
Alleging racial profiling, the woman, Shruthi Basappa, said in a Facebook post, "I hate to play the race card here, but I was the only person pulled aside and peeking at my husband instantly changed the woman's mind about the strip search that was now a regular pat down."
"We were travelling to Iceland from India via Frankfurt with our 4-year-old daughter when I was asked to move aside for this 'random check', no explanations offered. I was taken into a room and was asked to lift my dress/ take it off so that I could be checked to make sure I wasn't 'carrying anything under my clothes'", she wrote in her Facebook post.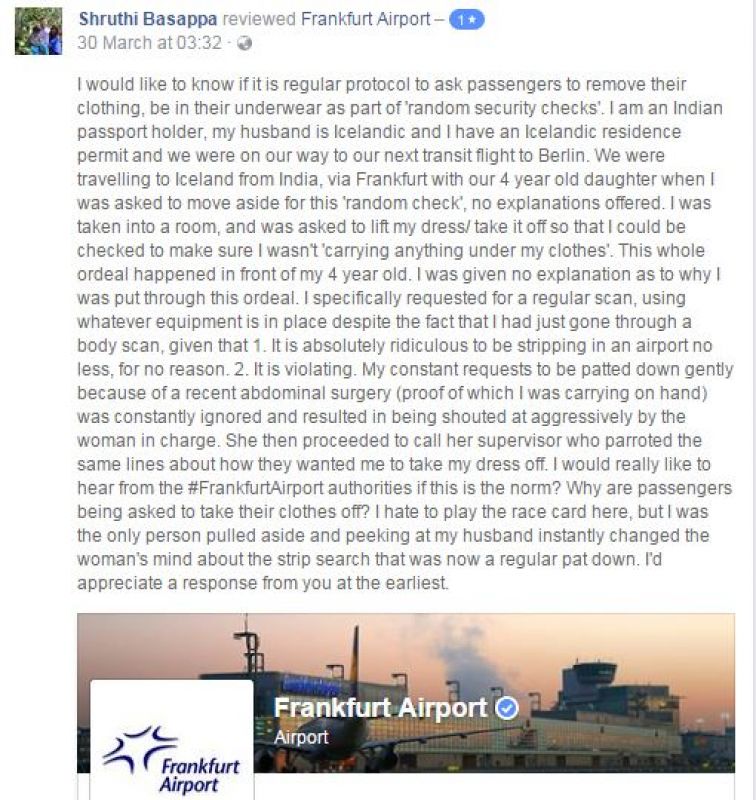 This whole ordeal happened in front of my 4 year old. I was given no explanation as to why I was put through this ordeal. I specifically requested for a regular scan, using whatever equipment is in place," she wrote in her post.
Ms Basappa had stood her ground, refusing to pull up her dress and demanded that her husband be called in. She says the tone and tenor of the officers changed after they saw her Icelandic husband. The strip search quickly turned into a pat down, something she was willing to do much before the whole nightmare.
As details of the incident emerged today, Foreign Minister Sushma Swaraj sought a report from the Consulate General of India in the German city.
Reacting to Basappa's post, a verified facebook account of the Frankfurt airport terminal had asked her to furnish more details of the incident. It also said that such practice was not part of the standard protocol.However, in a later post, Basappa said she been in touch with the airport authorities and was awaiting a reply.
"I have filed a complaint with the authorities in Frankfurt Airport but I am not surprised that it has been over two days and I have no answer from them," she further told sources.
Earlier in January, another Indian-origin Singaporean woman was humiliated at the same airport by its security staff and was asked to squeeze her breast to prove she was lactating. This happened after the police grew suspicion as she was carrying a breast pump but wasn't travelling with the baby.