The plan for a massive steel bridge to ease traffic on the road connecting Bengaluru to its international airport has been scrapped, Karnataka's Bengaluru city development minister K George said on Thursday, describing it as a "decision taken with pain".
"A decision has been taken to scrap the steel bridge. I have already spoken to the Chief Minister," Mr George said after a meeting with officials.
NGO Namma Bengaluru founded by Rajya Sabha MP Rajeev Chandrashekar had earlier moved the National Green Tribunal stating that a large amount of green cover in the city would be lost due to the project. Subsequently, the Chennai bench of NGT had issued a stay on the project.
The Chennai bench of the National Green Tribunal on October 28, 2016 stayed the 6.9-km project from Chalukya Circle in the city centre to Hebbal junction in the northern suburb, connecting the international airport road at Devanahalli and National Highway 4 towards Hyderabad.
The Tribunal bench, headed by Justice M. Chokalingam and expert member P.S. Rao, passed an interim order, restraining the state government from going ahead with the project till the petitioners' concerns were heard and addressed.
"Neither the state government nor BDA considered alternative routes, no study was done to confirm if the steel bridge was the best option, no permission was taken to cut 800 trees and no public hearings were conducted before awarding the project to a private firm," claimed the petitioners then.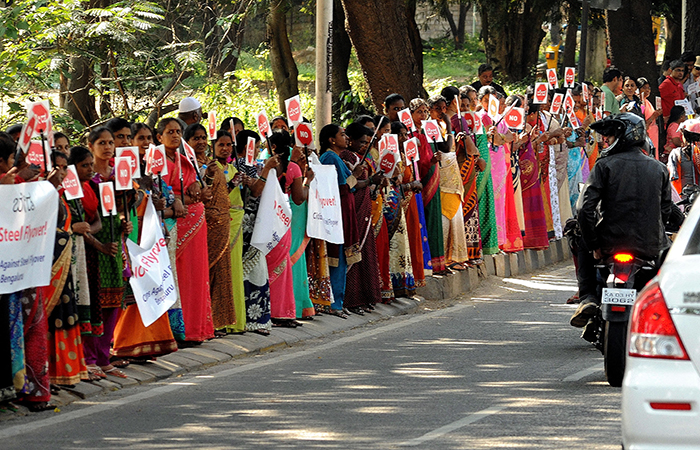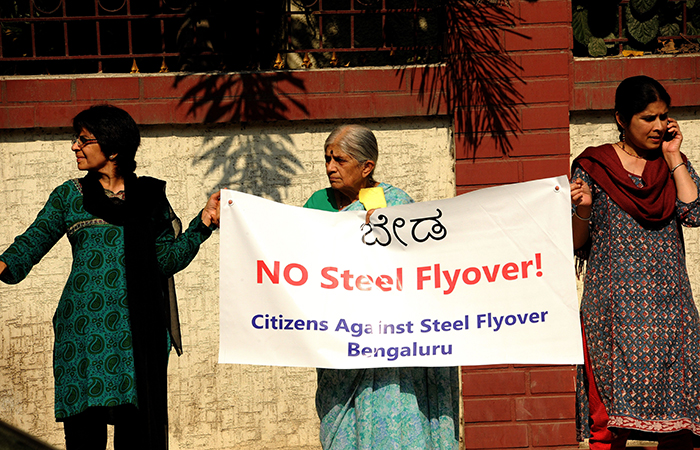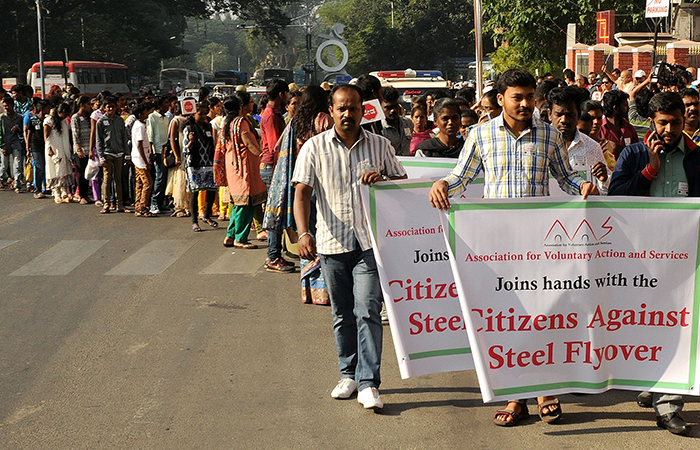 In October last year, there was a massive protest against the government when close to
10,000 citizens came on the road. There has been a popular opinion that the Bangalore
Development Authority could have explored other options that would have cost lesser money
and had not affected the environment either.
The project cost of the steel flyover was pegged initially at Rs 1,130 crore. A couple of months later, BDA floated a tender and the project cost had become Rs 1,350 crore. Finally , when the tender was awarded to L&T and Nagarjuna Construction Company,the project cost had touched Rs 1,791 crore.The 6.7 km steel bridge, estimated to cost
Rs.
1,800 crore, would have required the chopping of 812 trees.
The steel flyover was to connect Basaveshwara Circle to Hebbal with an extension on Sankey Road up to LRDE complex.The Rs 2100 crore project was going to be implemented by BDA to decongest Ballari road leading to Kempegowda International Airport.
The detailed project report showed the flyover starts from near Maharani's college on Palace road till the expressway near Kempapura junction beyond Hebbal interchange.