A chemical weapons attack in an opposition-held town in northern Syria killed dozens of people on Tuesday, leaving residents gasping for breath and convulsing in the streets and overcrowded hospitals.
One of the worst chemical bombings in Syria turned a northern rebel-held area into a toxic kill zone on Tuesday, inciting international outrage over the ever-increasing government impunity shown in the country's six-year war.
Tuesday's attack took place in Khan Sheikhun, where there are thousands of refugees from the nearby province of Hama who have fled recent fighting. The town is also on a crossroads between Hama and Idlib and is considered vital to any regime offensive towards the northern city of Idlib.
The Britain-based Syrian Observatory for Human Rights said at least 58 people died, including 11 children, in the early morning attack in the town of Khan Sheikhoun, which witnesses said was carried out by Sukhoi jets operated by the Russian and Syrian governments.
Photos and video emerging from Khan Sheikhoun, located south of the provincial capital of Idlib, showed the limp bodies of children and adults. Some were struggling to breathe; others appeared to be foaming at the mouth.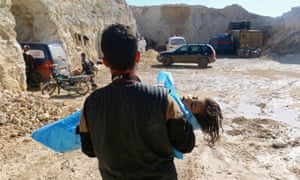 A man carries the body of a child, after what rescue workers described as a suspected gas attack in the town of Khan Sheikhun. Photograph: Ammar Abdullah/Reuters
It was the third claim of a chemical attack in just over a week in Syria. The previous two were reported in Hama province, in an area not far from Khan Sheikhoun.
Condemnation mounted throughout Tuesday as the US, Britain and EU blamed the Syrian government for the carnage, hours before the start of a donor conference on Syria in Brussels.
The Trump administration blamed the Syrian government for the attack, one of the deadliest in years, and said Syria's patrons, Russia and Iran, bore "great moral responsibility" for the deaths.
Theresa May said that she was appalled by reports of the attack and called for an investigation by the the Prohibition of Chemical Weapons."I'm very clear that there can be no future for Assad in a stable Syria which is representative of all the Syrian people and I call on all the third parties involved to ensure that we have a transition away from Assad. We cannot allow this suffering to continue," she said.
"These heinous actions by the Bashar al-Assad regime are a consequence of the past administration's weakness and irresolution," Trump said. "President Obama said in 2012 that he would establish a `red line' against the use of chemical weapons and then did nothing. The United States stands with our allies across the globe to condemn this intolerable attack."
Trump left it to his top diplomat, Secretary of State Rex Tillerson, to assign at least some blame to Russia and Iran, Assad's most powerful allies. Tillerson called on both countries to use their influence over Assad to prevent future chemical weapons attacks, and noted Russia's and Iran's roles in helping broker a cease-fire through diplomatic talks in the Kazakh capital, Astana.
"As the self-proclaimed guarantors to the cease-fire negotiated in Astana, Russia and Iran also bear great moral responsibility for these deaths," Tillerson said.
In a statement, the Syrian government "categorically rejected" claims that it was responsible, asserting that it does not possess chemical weapons, hasn't used them in the past and will not use them in the future. It laid the blame squarely on the rebels, accusing them of fabricating the attack and trying to frame the Syrian government.
The Syrian military said it "categorically denied" responsibility. Russia, which has heavily backed the Syrian regime, said its planes were not operating near Idlib. Early on Wednesday, the Russian defence ministry said a rebel-held town in northern Syria was exposed to toxic agents from a rebel arsenal hit by a Syrian air force strike
The operations chief of the UN-led team that investigated a mass sarin attack on Ghouta area of Damascus four years ago,Jerry Smith, said: "This absolutely reeks of 2013 all over again."
Smith said: "If you look at the footage itself, the victims don't have any physical trauma injuries. There is foaming and pinpointed pupils, in particular. This appears to be some kind of organo-phosphate poison. In theory, a nerve agent. What is striking is that it would appear to be more than chlorine. The toxicity of chlorine does not lend itself to the sort of injuries and numbers that we have seen."
Mohammed Hassoun, a media activist in the nearby town of Sarmin, where some of the critical cases were transferred, said doctors there also believed it was likely more than one gas. "Chlorine gas doesn't cause such convulsions," he said, adding that doctors suspect sarin was used.
"There are 18 critical cases here. They were unconscious, they had seizures and when oxygen was administered, they bled from the nose and mouth," he said.
A joint investigation by the United Nations and the international chemical weapons watchdog determined the Syrian government was behind at least three additional attacks in 2014 and 2015 involving chlorine gas, and that the Islamic State group was responsible for at least one, involving mustard gas.
Smith said the recovery of samples would be pivotal to the investigation of the Idlib strike. "It is one of the most important things now to get biological samples, interviews and environmental samples, ideally from witnesses who can also give statements," he said.