Roger Federer won the Australian Open for the 18th Grand Slam title by defeating his old rival Rafael Nadal at Rod Laver Arena.
The 35-year old Swiss player beat Nadal 6-4, 3-6, 6-1 3-6, 6-3 on Sunday to win his fifth Australian Open title. He won the championship point by a forehand winner.
Since 2011 Rafael Nadal and Roger Federer have encountered each other for the 9th time in the Australian Open.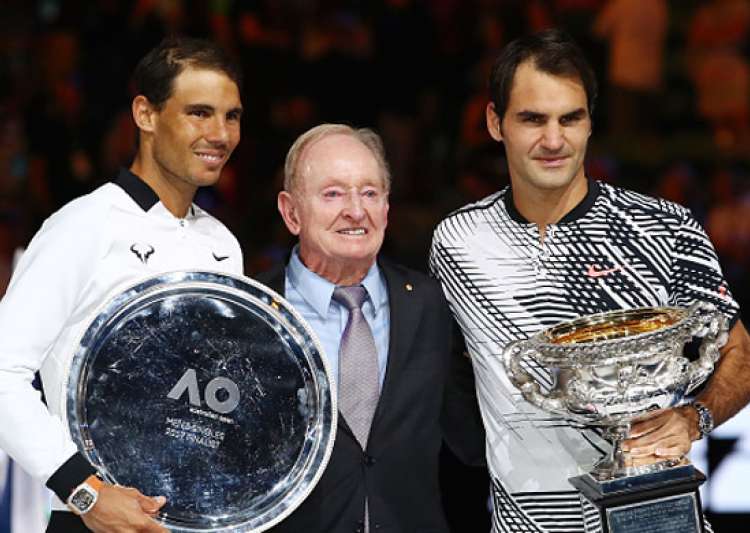 Both the star players are back into form after a string of injuries. Currently, Rafal Nadal ranks 9th in the world whereas Roger Federer 17th in the world.  With this beautiful win, Roger becomes the oldest man to win a Grand Slam title.
The duo has strived together for 31 grand slams out which Federer has won 17 of them.
And when the news of Roger Federer winning the Australian Open exploded, Twitterati got all hyped up with happiness.
https://twitter.com/FineLogic/status/825706463406350336
And, the world seems like a better place to live in now. For a bit at least. #FedererNadal

— Vaspar (@Vaspar) January 29, 2017
Will tell my grandkids that I watched this…one for the keeps. And some suggested that he should quit. #Federer

— Aakash Chopra (@cricketaakash) January 29, 2017
https://twitter.com/Guttajwala/status/825679776232792064?ref_src=twsrc%5Etfw
https://twitter.com/delpotrojuan/status/825679470296256512?ref_src=twsrc%5Etfw
He's 35. Federer is 35, winning major championships in quite possibly the world's most physically demanding sport. Crazy.

— Azeem Banatwalla (@TheBanat) January 29, 2017
There are legends. And there is @rogerfederer. Enough said #Fedal #AusOpen

— Gautam Bhimani (@gbhimani) January 29, 2017
@rogerfederer the greatest, the best of all time. What a champion and legend. You have made my 2017

— Kumar Sangakkara (@KumarSanga2) January 29, 2017
For those who said he can't beat Rafa on clay in five sets. Tadah. #FedererNadal #AusOpen #Final

— Neville Shah (@craziebawa) January 29, 2017
The GREATEST athlete of our time and the greatest sport to watch! @rogerfederer take a bow! @RafaelNadal take a bow! #UnbelievableTennis

— Alan Wilkins (@alanwilkins22) January 29, 2017
That 26 shot rally though. One of the best I've ever seen

— Azeem Banatwalla (@TheBanat) January 29, 2017
What a match @rogerfederer you are an absolute Legend!! Nadal played incredibly well also but so happy for roger @AustralianOpen #champion

— Steve Smith (@stevesmith49) January 29, 2017