Since Koffee with Karan-Season 5 began, endless speculations have been doing the rounds regarding comedian Kapil Sharma appearing as a guest on the show. Rumours of a rift between director-producer Karan Johar and Kapil were floating in the air, but the latest episode witnessed Mr. Sharma making his debut on the show. Kapil was at his wittiest best, although he shied away from answering personal questions, stating that he'd prefer to maintain a distance from controversies.
The episode began with Kapil nervously stating that he couldn't believe he was called on the show. Kapil sweetly asked Karan to start talking in Hindi as he knew only 700 English words and wondered why the word 'apologise' was introduced when we already had a 'sorry.'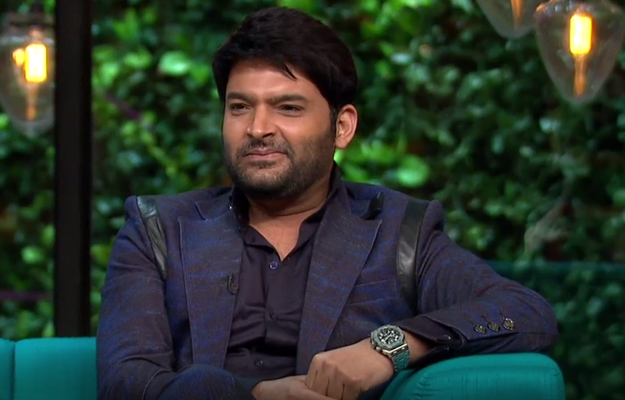 Next up, KJo asked Kapil about his Twitter controversy. Kapil wished that a licence was required to be on the platform, while humourously adding, "Aaj kal muh utha ke koi bhi aa jaata hai twitter pe, including me." He stated that he admired the Prime Minister and had expectations from him, hence he tweeted in full soberity. He comically added that people shouldn't drink and tweet, and although his tweet was immature, his intentions were earnest.
Karan headed towards asking Kapil about his girlfriends and Kapil cleverly dogged the question by expressing his unconditional love for actress Deepika Padukone. However, Karan candidly asked Kapil as to what he does for sex and this made Kapil awkward to a point that he was totally dumbfounded. Kapil fell short of words when he was asked about female attention and replied that he enjoys it and it should keep coming. Kapil also blushed on the question of his marraige but honestly stated that he wasn't very sure if he'll ever get married and is still confused about this decision.
The most interesting part of this show popped up when Kapil narrated his anecdote of gatecrashing superstar Shah Rukh Khan's party. In his defence, Kapil funnily added,"gatecrash nahi tha, Shah Rukh bhai ke bunglow ka darwaza khula tha." Kapil recollected that while roaming around in the city with his cousin, the desire to see Shah Rukh's bunglow brought them to his residence and they entered without any issues because the guards thought that Kapil was invited to the party. Kapil praised Shah Rukh for his warmth and kindness and also apologized to him for gatecrashing.
Overall, the episode did have its perks and funny moments, but if you're looking for an out and out Kapil Sharma lunacy, then you'll have to wait this time as Kapil appeared quite guarded and reserved on the show maybe, because this time the tables were turned, and he was at the receiving end.