A lot of controversies are created when the Australian Cricket team plays on the Indian soil.
Virat Kohli has alleged that Australian Captain Steven Smith and some other Australian players disrespected the home team physio Patrick Farhart.
Smith has denied the claim that nothing as such happened.
Virat Kohli after the match conference told "They (four-five of them) started taking Patrick's name. I don't know why. He's our physio. His job is to treat me. I don't find the reason behind it. I could not understand. You must ask why they have started taking his name".
While saving a run, Virat had injured his shoulder and Farhart rushed to the field to take care of his injury. Kohli eventually left the field with the physio.
A little while later Glen Maxwell was seen imitating Virat Kohli by holding his right shoulder after his dive to save a boundary. Virat Kohli being aggressive on the field did the same thing when David Warner got out on the 4th day.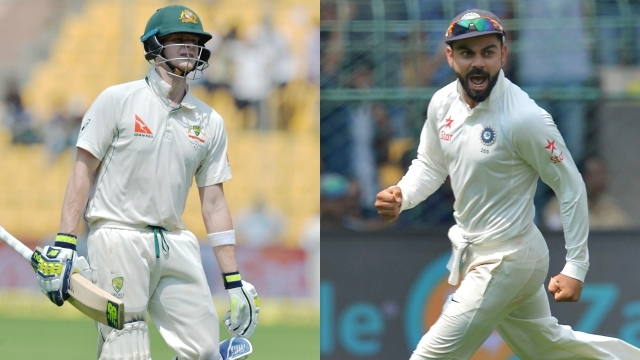 When the Australian media asked about the incident with him teasing Maxwell, an irritated Kohli said  "It's funny all our guys ask about cricket as the first thing and you ask about something controversial. But it's okay. These things happen on the field."
Smith insisted that they never disrespected Farhart, who himself is an Australian.
Smith said "It was a bit disappointing. I didn't actually do anything. Virat was having a go at me saying I was disrespecting Patrick Farhart. I was probably the exact opposite. I think he probably did a pretty terrific job to be able to get Virat back on the field after that shoulder injury. He's a terrific physio and he obviously does a great job for them."
Asked about his take on the spirit of the game, Smith said: "There's always a bit of tension when you're playing India in Test matches. As far I'm concerned it's being played in the right spirit on the field and it's a hard and tough grind. That's how I would explain it and no issues with that."