Kangana Ranaut, the star of Queen, the film directed by Vikas Bahl who was recently accused of sexual harassment, has finally opened up about the controversy surrounding her director.
According to information available , a young woman working at Phantom Films had alleged that she was molested by Vikas Bahl, director of the much-acclaimed Queen, during a trip to Goa a few months ago.
However, Phantom,considered among the Hindi film industry's most progressive film production companies, with several path-breaking, critically acclaimed and commercially successful movies having been made under its banner.
Phantom,founded by Anurag Kashyap, Vikramaditya Motwane, Madhu Mantena and Vikas Bahl, is now at the receiving end of some unflattering attention.
Following her complaint to the other stakeholders at Phantom, the matter was escalated to Reliance Entertainment with whom Phantom has a 50-50 joint venture.
The seriousness of the allegations resulted in the company setting up a committee as per the Vishakha guidelines to hear her grievance.
However, Phantom's Madhu Mantena has stated on record that no such developments have taken place against the company. In fact, Mantena has denied the existence of a complaint against Bahl to begin with.
Vikas Bahl, who is at present in Delhi, told sources that he was very much still a part of Phantom and denied the allegations of sexual misconduct.
"Nothing has happened. I am running the company. There is no complaint to HR and there is no Vishakha committee. I have heard about this particular lady you are speaking about and the Goa incident. She is not my employee. Yes, I am friends with her, we have worked together and there is a particular production job we have done together…but if she is feeling like this then I would like to sit across a table from her and talk to her. I want to ask her if I have crossed a line, whether I have done anything to hurt her and if she feels that way, I would like to apologise for it," Bahl told in a statement.
Kangana Ranaut, who is known for her vivacious and outspoken behaviour, was present at a fashion event and encouraged women to speak up about sexual harassment's occurring at work place.
"More women should come out and talk about whatever they feel because that's how there will be awareness about these issues and of course, there will always be another side of the story as well and then there will be the authorities, who can decide what is the right thing to do. But people should speak up about whatever they feel, whether they are right or wrong, they must speak up and discuss," Kangana added.
Now, at the event when Kanagana Ranaut was asked about her Queen director Vikas Bahl and the allegations against him, she said, "It's a very serious issue. I can only say that it is very courageous of a woman to come out and speak about sexual harassment. It's not regarding this particular event, because I am not the party involved, but generally speaking, women who face this should be encouraged to talk about it by their families and their colleagues without feeling ashamed about it."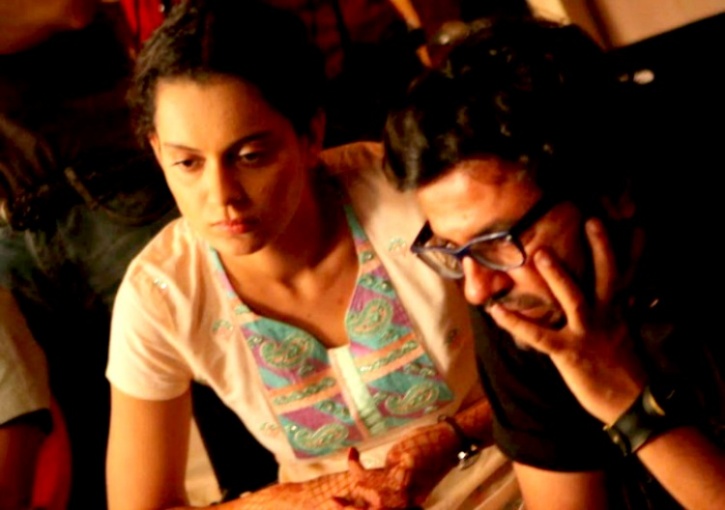 Kangana Ranaut and Vikas Bahl
Noticeably, Kangana Ranaut refrained from commenting on Vikas Bahl even though she did acknowledge the seriousness of sexual harassment and considered it a matter of courage to come out and talk about being harassed in the open.
Kangana was recently all over the news for her blood feud with filmmaker Karan Johar.
On the work front, Kangana Ranaut was recently seen in Vishal Bhardwaj's Rangoon. She will be seen next in Hansal Mehta's Simran and has currently begun training her upcoming movie Manikarnika, based on the life of Rani Laxmibai.